Updated October 21, 2022
COVID-19 Vaccine Appointments and Clinic Locations
Schedule online here: MyTurn
or by phone: 1-888-422-4255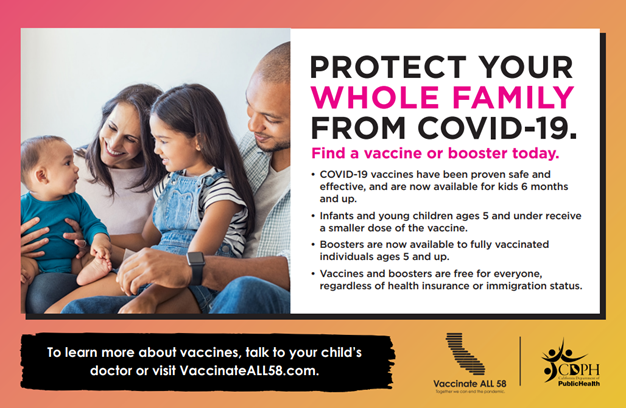 Booster update 10/17/2022:
Updated booster vaccines (bivalent boosters) are now available and recommended for everyone age 5 years and older. This booster is recommended at least 2 months after your last booster or at least 2 months after finishing your primary vaccines if you have not had a booster yet.
Boosters are a normal part of vaccine series to ensure ongoing protection. The bivalent boosters from Moderna and Pfizer-BioNTech were updated to also protect against Omicron, including the B.A.4 and B.A.5 types of Omicron. These variants have caused most recent infections and are known to be much more contagious, reinfecting persons who had COVID-19 before and causing breakthrough infections in people who had been vaccinated. The updated booster is an important tool to increase protection against these newer variants as well as prior strains.
Staying up-to-date with your vaccine is recommended even after an infection. Data shows that getting vaccinated after having an infection increases protection against later infections and prevents hospitalization. Most persons may consider waiting up to 3 months after an infection to get vaccinated as data shows it may result in a stronger immune response per CDC.
Who is eligible for COVID-19 vaccine:
Everyone age 6 months and older
Who is eligible for updated COVID-19 boosters:
Everyone age 5 years and older should get the updated bivalent booster at least 2 months after their last vaccine or booster dose
COVID-19 vaccines and boosters can be given at the same time as the flu vaccine.
Getting vaccinated:
Click the link above to schedule an appointment or view walk-in clinic locations (note: pediatric locations will continue to be updated in MyTurn as available).

Bring your vaccine card when getting follow-up vaccines and boosters.
Lost Your COVID-19 Vaccine Card?
More information on COVID-19 vaccination: